THE ONLY THING CERTAIN ABOUT A TAX PROBLEMS IS…
IT WILL NOT GO AWAY BY ITSELF!
GET THE HELP YOU NEED
Resolving tax problems or being represented in a tax audit requires a proactive litigator to fight for your interests –  not a CPA or an attorney who does tax returns and tax planning.  There are many companies looking to assist you with your tax problems,  including  advertising on radio and television.  Most of these, however, are not even located in California, let alone in San Diego – and many never return your phone calls or E Mails after getting their fees.  Jeffrey D. Schreiber is a tax litigator with his office in San Diego who can aggressively help you to solve your personal or business tax problems with the IRS and the State of California.
WHAT ARE THE ADVANTAGES OF BEING REPRESENTED BY THE SCHREIBER LAW FIRM TO RESOLVE MY TAX PROBLEMS?

There are many advantages to hiring us to represent you. They include:
Over 30 years experience
A physical office in San Diego where you come to meet with and work with an attorney. You never meet with or talk to any paralegals or assistants – all telephone calls and meetings are with your attorney.
Honesty.  Sadly, we have had clients who first started with out-of-the-area tax resolution companies before seeing us.  They tell us how these companies took their money and filed an Offer In Compromise – not caring whether they qualified or whether the offer can be or is ever accepted – and sometimes they didn't do anything at all.  At  The Schreiber Law Firm you receive genuine personal, individualized attention. We will not propose an action unless it fits your circumstances and continue to work for you until there is a resolution of your tax problems
You

never

have to talk to tax representatives with the IRS or the State Of California – we handle it all
Lower attorney's fees – which are always lower than tax resolution companies advertising on television and radio
We take the time to explain the process to make sure you understand it
Free initial consultation with an attorney to review your options
TAX PROBLEM SERVICES WE PROVIDE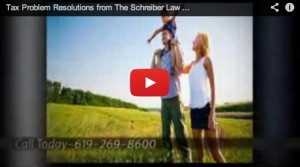 We have the experience to assist you with:
Obtaining settlements and payment plans for unpaid taxes with the IRS and California taxing agencies (Offer In Compromise and installment agreements)
In appropriate circumstances, discharging back taxes through bankruptcy
Removing wage and bank levies
Representation in federal and California tax audits and in tax court proceedings
Removing tax liens
Preparation and filing of delinquent income tax returns
Resolving unpaid employment, payroll and sales taxes
Offer In Compromise
If you owe income or payroll taxes to the IRS or to the State of California or sales or use or  taxes to the State of California, we can negotiate with the taxing agencies to settle your debt for less money than the total you owe with an Offer In Compromise. Using our experience, we negotiate for you to pay the least amount legally possible.
Installment Agreements
If you can't pay what you owe in full now, you can avoid levies and give yourself time to pay with an installment payment agreement. Taxpayers who call the taxing agencies themselves find they are asked questions about their assets, may be asked to fill out financial statements listing all of their assets, and may not know how that financial information applies in determining a payment amount or how it will be used, or what installment payment options may be available to them. We have the experience to get between you and the taxing agency to obtain an installment agreement most favorable to you.
Tax Audits
When you receive an audit notice – never go it alone! We have experience in representing taxpayers in office and field audits of income taxes and sales taxes and to know how to answer an auditor's questions and organize documents to conclude audits as quickly as possible.
WHAT YOU NEED TO KNOW ABOUT IRS LIENS AND COLLECTIONS
The next step could be the IRS or the State taking all of the money out of your bank account and/or seizing most of your take home pay, sometimes not even leaving enough to pay the mortgage or rent or enough to buy groceries. Unfortunately, a number of people do not come to see us about their tax problems until a levy occurs. The problem is, once a levy occurs the IRS and the State holds all the cards and it still can take time to get the IRS or the State to release the levy, with the IRS or the State not necessarily releasing some or all of the money already taken.   Meanwhile, you have little or no money and maybe none until the next payday.
A tax lien will not go away by itself. This lien can be there for as long as the next ten years with levies and seizures for unpaid taxes, penalties and ever increasing amounts of interest. The IRS and the State can take all future tax refunds until all taxes, interest and penalties are paid in full.   The IRS can even levy your Social Security retirement payments and there is NO statute of limitations on the time the State can collect past due income taxes.
Even so, we understand why it appears easier to avoid dealing with this problem. Thinking about unpaid taxes only creates stress and anxiety and costs money to resolve. However,  we have never seen a case where waiting does anything but cause someone to eventually end up paying a lot more money to the IRS or the State of California than they may have to pay now, and waiting has done nothing but create more difficulties with the IRS or the State of California than if the problem was addressed now.
If you are like most taxpayers, you don't know how to deal with, and for good reason, do not want to deal with the IRS or the State taxing entities.  You may believe you will never be able to pay the amount the IRS or the State is demanding and feel helpless. Or you may be waiting until you have the money, a new job, or a raise to be able to pay the amount due. You may fear contacting the IRS or the State will only bring attention to you, and the IRS or the State will then seize and sell your property to pay the taxes.  Or if you haven't filed returns for years, you may be afraid the IRS will put you in jail.  There is no need to hide from the IRS or the State, worry that there is no escape, that your financial future is ruined, or that you will end up a slave to the IRS or the State paying back taxes, penalties and unending interest forever. We can guide you out of your tax problems and finally restore your peace of mind.